Bluegrass & Old-Time String Band Ensemble


Jennie, Jake, Anna, Jeremy, Tommy, Julie, and Julius
The Bluegrass & Old-Time String Band Ensemble is a musical performance group in the Ethnomusicology department at UCLA, directed by Tommy Stanton and sponsored by Professor Anthony Seeger.


Bluegrass music
Bluegrass is a genre of music that is relatively young but has roots in very old traditional music cultures. Bluegrass is an American music which was created in the first half of the 20th century and can be traced back to older genres of Celtic, English and Scottish, African-American, and country music.
Unlike mainstream country music, bluegrass relies mostly on acoustic stringed instruments. The fiddle, banjo, acoustic guitar, mandolin, and upright bass are sometimes joined by the resonator guitar (popularly known by the Dobro© brand name). Instrumental solos are improvised, and can frequently be technically demanding.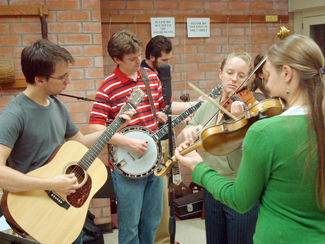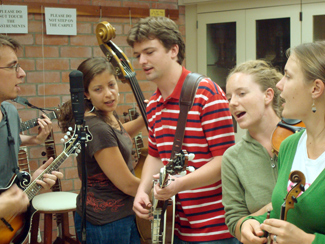 The players
Tommy Stanton - banjo
Anna Egholm Pedersen - fiddle
Jennie Gubner - fiddle
Jeremy Althouse - guitar
Jake Kaye - guitar
Julius Reder Carlson - mandolin
Julie Raimondi - bass

The directors
Anthony Seeger is a professor in the Department of Ethnomusicology at UCLA and Director of the Ethnomusicology Archive. Before coming to UCLA in 2000, he was Curator and Director of Smithsonian Folkways Recordings, where he published many CDs of bluegrass and old-time music. He teaches courses on music of the Americas, the music industry, and other subjects. He has been playing the 5-string banjo since he was 10. This is the first year he has supervised this ensemble.
As a graduating senior undergraduate in the Ethnomusicology department, Tommy Stanton reestablished the ensemble this year with the support of Professor Seeger. He has been playing the 5-string banjo since he was 15 and is a 1st place winner of the Topanga Banjo Fiddle Contest. He arranges most of the music and directs the instrumentation, but the ensemble is also driven by the contributions, arrangements, and musical skills of the other students participating.
The concert
The Bluegrass & Old-Time String Band Ensemble is having its final performance on Thursday, May 29th 2008 at 7 PM in Schoenberg Hall on the UCLA campus, during the UCLA Spring Festival of World Music and Jazz 2008. The ensemble is playing at 8 PM, during the second half of the evening after the Music of West Africa Ensemble performs.
Admission is FREE!
Directions
Schoenberg Music Building is located at Hilgard and Westholme in Los Angeles, CA. Parking is available at Lot #2 which is also at the intersection. Schoenberg Hall is located at the very north end of the building. Please see the map at the link below.
Google Map of Hilgard and Westholme


---